Services Dania Restoration Expert - Dania, FL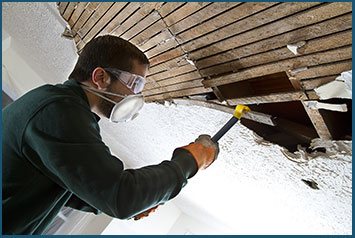 What's your first instinctive reaction after you find your home damaged by a plumbing leak or your office devoured by fire? You'll call a damage restoration service! But not just any service will do. With Dania, FL flooded with an array of options to choose from, it will only add on to your dilemma when it comes to choosing the right company. Most firms use your misery as a means to extort money, while some take hours or even a day or two to render services. Some are unqualified and don't carry adequate exposure to the industry with relevant experience. That's why, whether it's something as simple as a water leak or as drastic as a fire outbreak, avail services only from a reputed and established company. Choose Dania Restoration Expert, a leading name in the damage mitigation and restoration industry that's known across the region for its reliable, timely and quality-oriented services.
Our services are for:
Home owners:
When a home is damaged it can throw routine life into chaos. No one wants to experience a flood or fire wreaking havoc on their property, damaging everything they treasured. That's where we step in to provide the helping hand needed to recover from the disaster, piece back your life and make it whole again. We address leaks, dry your property, remove mold, clean-up the property and also remodel your home, based on your requirements.
Business owners:
When your business property is hit by a flood or is reeling under a major plumbing failure, it's vital to restore things to normal before your productivity takes a massive blow. We're always available on 754-206-0820 and work 24 hours a day, 7 days a week to provide businesses across every industry in Dania, FL with the fastest, most reliable and the best possible restoration services in the area.
Insurance companies:
When your clients experience damage to their residential/commercial property, they rely on you to provide the requisite assistance needed to restore their property to its pre-loss state. But who will you rely on to give you impartial estimates and an accurate scope-of-work? The answer is Dania Restoration Expert. We seamlessly work with your clients to settle any disputes and assist with fair and efficient insurance claim processing.
To avail our services, dial 754-206-0820 now!
There's an old adage which goes, 'A stitch in time saves nine'. Clichéd as it may seem, it nevertheless holds true in the modern-day environment. Most home owners ignore small leaks, dismissing them as 'unimportant' until they discover that their water bills have shot up by a significant sum and the home has started reeking of musty odors. That's the wakeup call most receive – and by then, the damage would have propagated to an extent where extensive repairs and restoration become mandatory. That's why it's vital to detect water leaks at an early stage and fix the issue right away. Otherwise, you may risk exposing your property to harmful contaminants, mold growth and incur heavy losses in terms of water damage. Click to read more...
Time and again, Nature proves where the real power lies. Whole cities can get submerged in its fury, and it might take days or even weeks for any semblance of normality to return. However, floods don't have to be that intense or dramatic to have a negative outcome. In fact, it only takes a few inches of water to cause some serious damage. From weakening your property's structure to promoting the growth of harmful microorganisms, when a flood enters your home either after a severe storm or due to a major plumbing disaster, when it leaves it takes a piece of your property with it. As grim as it may seem, calling a disaster expert specializing in handling flood damages will enable you to start putting your life back together again. Click to read more...
Leaving a small leak unaddressed or ignoring that damp spot on the wall, may seem like the natural thing to do. After all, what's the big deal? Few days later, the consequence of it all may manifest itself in the form of mold – a type of fungus that's not just unsightly but also has a notorious reputation for wrecking wooden items, walls, floors and causing health hazards. Most property owners, despite carrying out regular maintenance such as polishing, cleaning, dusting, repairs, forget the one thing that matters: checking for mold. Hidden out of plain sight, mold may grow behind walls, underneath your flooring or within ceiling cavities, slowly violating the sanctity of your property. Click to read more...
Has water ransacked your beautiful home and left it in a deplorable state? No two words in the dictionary can send a flurry of fear like 'water damage' can. When water finds its way into your property, minutes seem like hours as water spreads rather rapidly and the damages seem quite destructive. Dania Restoration Expert comprehends the devastating setbacks caused by water and the property damage done to your home/business and that's why we pledge to do whatever it takes to respond fast, restore and rescue you from the resulting losses. Click to read more...
Let's face it; nothing comes close to the devastation brought about by fire, which is second only to earthquakes. Everything, from your family heirlooms to your furniture, can be burnt to ashes. Not just that, the shock and sense of trauma that accompanies the event can have a drastic effect on your physical and mental well-being. While you can't rewind the clock and prevent the fire from every breaking out, trust us to make the aftermath a lot easier and hassle-free on you. Being the leading restoration experts in Dania, FL, we can comprehend the severity of such situations and spring to action as soon as you call us on 754-206-0820. Click to read more...
In the aftermath of a natural disaster or a fire, all that's left is devastation. Don't let it deface your property forever! Whether your home has lost its curb appeal following a flood or you simply wish to make renovations, you can trust Dania Restoration Expert to be there for you, restoring your property to its original or a better state than before. Known across Dania, FL area for our unparalleled damage restoration services, we couple it with reconstruction and remodeling, thus giving our clients the complete package and enabling them to style their property as per their need, no matter how dilapidated or deteriorated it is. Click to read more...